About MINEX Europe Forum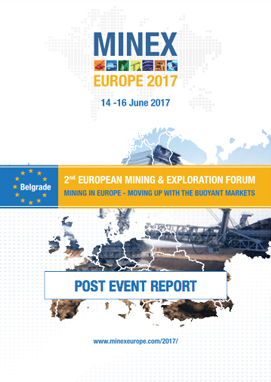 The 2nd MINEX Europe Mining & Exploration Forum was held on 14-16 June 2017 in Belgrade, Serbia.
Organised every year in a different country, MINEX Forum helps to spotlight opportunities in a specific region of Europe.
This year MINEX Europe took place in Serbia – one of the world's most promising mining hot-spots. By bringing to the region global mining expertise, the Forum aimed to help the local Government, Miners and Local Communities to take advantage of the international knowledge gained by other mining regions in developing sustainable and responsible mining industries.
The Forum offered vibrant platform for dissemination of innovative technologies and promoting investment opportunities for mining and exploration across Eastern, Central and Southern Europe.
Over 40 speakers and panellists presented at MINEX Europe 2017 Forum.
MINEX Europe Mining & Exploration Forum brought together over 170 delegates from 24 countries representing mining and technical projects, European and Global mine operators, Practitioners from consulting companies, Equipment suppliers and software providers, Representatives from research institutions and Government agencies, National geological surveys, Banks, NGOs, Media, as well as Academic scholars and Researchers.
Mine site visits to historic mining town Bor were organised after the Forum. Delegates visited Čukaru Peki mineral deposit developed by Rakita Company Ltd and Mining Complex manged by RTB Bor Group.