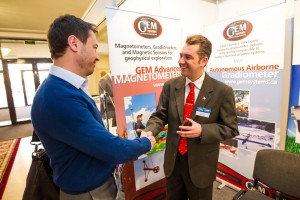 Mining Trade and Investment exhibition will be held alongside the Forum on 14 and 15 June 2017.
Open to visitors and general public, the exhibition offers unique opportunities to both international and domestic companies to demonstrate their products, services and projects to highly sophisticated target audience. 
Why should companies exhibit at the Forum?
» Enhance visibility at the region's premier international mining event
» Create a "home base" for meeting existing and new customers
» Demonstrate your capabilities and strengths
» Present new products, projects and services mining companies active in Europe
» Make contact with potential new investors who are specifically interested in European projects
» Position your company as a market leader in an exciting emerging European industry
» Conduct surveys and face-to-face interviews
Exhibitor profile
– Domestic and international mining companies
– Geological and mineral exploration companies
– Mining consultants and engineers
– Mine design institutes
– Mining construction companies
– Insurance, audit and law firms
– Software producers
– Geological equipment producers and distributors
– HR consultants
– Mining machine producers and distributors
– Processing equipment producers and distributors
– International commodity traders and investors
– Mining associations and trade bodies
– Mining financiers